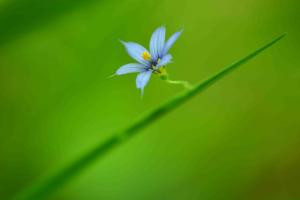 Hi, Iím finally back.
Today I will be taking you back to the little swampy area where I got the shot of the Appalachian Brown butterfly.

Back up the swamp a little way, where it diminishes to little more than a muddy stream bed, there is a wooded incline, which is beautifully decked with ferns. At the bottom of this incline, a few feet from the edge of the mud, stands a large tree, at the base of which, I found my subject.

As with the butterfly, I was not aware that this species of flora was present on the property. Actually, I haven't been able to identify exactly which species it is yet. But there were several Blue-eyed Grass (Sisyrinchium sp.) plants growing there. It is tough to identify them, because the same field guide that tells me that there are 37 native species, only describes three or four.

These plants are not grasses, they are really something like Irises. And, again despite their names, yes, I know, their Ďeyesí are not blue, but yellow with the whole flower being blue.

These plants are small, and were less than a foot high. The low light from being in the woods required a tripod. Fortunately, I had my small tripod with me, and was able to get this shot. It was a little dark, so I had to lighten it up a bit.




This is just the type of habitat these plants grow in. They grow in moist places. I guess it was the perfect niche for them. I will certainly be looking for them again this year. They are such beautiful little creations which God has made. They bloom in the spring and early summer, and this one was photographed on May 21st, at 1:41PM, which happens to be just before the end of the world. (The first end of the world, not the second one).

Anyway, Iím looking forward to getting out there again this spring. I donít find much that I really enjoy photographing in the cold, cold, cold, winter. I know some people have much colder winters than these here in Maryland. That doesnít make me want to go out in the cold, though.

I know, I should force myself to get out there. I will. Maybe in the snow or ice, maybe for a frost, or a sunrise. But today it is windy. I hate wind. Of the top ten biggest problems wildflower photographers face, wind is the first 26. I donít know if you knew that or not, but now you do.

Anyway, I will sign off now. Hey, maybe the wind will die down this afternoon. Maybe. We just had a small snow flurry, while the sun was out, no less! An interesting experience.

Over and out.

J.D. Grimes