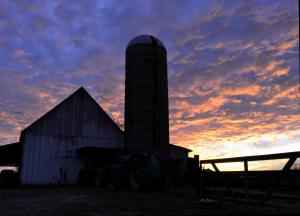 Hi, everyone!

I know I said in my last post that I should get out more often, and I have. Yesterday was warm, so I got a chance to go out and have a little fun with my camera. I went out in the afternoon, and took a lot of shots of the Canada Geese on our pond. As I expected, I don't think any of them are really anything spectacular, but I was mainly just having fun. I enjoy getting out and walking around the farm.

The real news is that I went out yesterday morning to get a shot of the sunrise. That's not so hard this time of year, because you don't have to go out sooo early, but it can be cold. Fortunately it wasn't too cold, and I was able to get almost all of the shots I wanted.

I have been trying to get this shot of the cow barn and silo silhouetted against the sunrise for about a month, and haven't really gotten any shots I liked. I think that I have tried about three times, and have only really got one nice shot, which I haven't uploaded yet. But this time I had my new full-size tripod, instead of my smaller one, and I was able to get some nice shots.




Because my new tripod can go so low, I was able to get these shots:




At first I wasn't sure whether any of them had really turned out that great, but now the more I look at them, the more I like them!

Anyway, I just wanted to do a post on them. It is warm again today, so I will probably go out again, but I really find little to photograph this time of year. I am a big fan of every color that God put in the rainbow, and this time of year the color is harder to find. But don't worry, I will keep looking.

Over and out.

J.D. Grimes